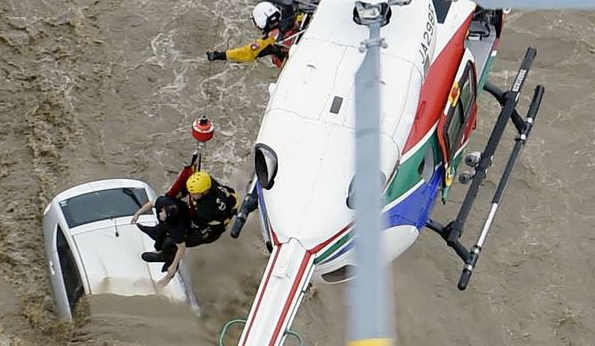 From Hugginton Post – Parts of northern Japan are facing extreme flooding issues just 40 miles north of Tokyo in the city of  Joso and the surrounding area. Parts of the region have seen over 24 inches of rain in the past few days and more is expected to fall in the coming days.
Tropical storm Etau has hit the region, bringing the huge rain totals and causing flash floods, leaving thousands stranded and even more being evacuated. These high rain totals are expected to each the Fukushima area, the site of that terrible nuclear disaster that is still being worked on to this very day.
Prayers go out to all of these people caught in this extreme weather is only an hour or so outside of Tokyo! The Tampa area recently had some bad localized flooding over the past month, but nothing like this!